Rob Roy
Research Associate & Director of Sponsored Programs
Board of Regents of The University System of Georgia (USG) – System Office
Nominee for Regionally-Elected Board Member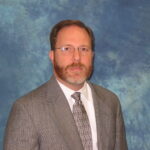 Personal Statement
Having been involved with NCURA for almost 2 decades, I attribute much of my professional growth to experiences gained through my membership. After the first few years of membership, realizing that I had something to contribute, I started presenting – first in concurrent sessions and discussion groups – and then progressing to workshops. Providing my skills to the operations of Region III by volunteering on a number of committees, which eventually progressed to Regional Treasurer, and Region III Executive Committee, I developed understanding of the organization's structure and mission and an awareness of how this organization provides professional growth to the membership. More recent experience has included presenting at the national level at FRA and the Annual Meetings as well as serving at the national level as a member of the Financial Management Committee. Applying my knowledge and skill gained during my tenue with NCURA and professional experience I will work to better the organization, guided by the strategic plan and in accordance with the NCURA bylaws. It is my desire to continue to give back and contribute to Region III as your regionally elected representative on NCURA's Governing Board and non-voting guest of the Region III's Executive Committee.
When I hear 'diversity, equity, and inclusion' the thoughts and actions of inspired people come to mind. The first is Eleanor Roosevelt who chaired the United Nation commission that adopted the "Universal Declaration of Human Rights". This document addresses the principles, among others, of the right to speak freely, the right to education and healthcare. The Second is Anna Mouchref who stated "Nobody wants to feel that they're not understood. That's just part of being human. We want to feel understood. We want to be loved. We want to feel like we belong somewhere."
I mention the ideas affirmed by the Universal Declaration of Human Rights, Eleanor Roosevelt and Anna Mouchref as it is these that drive me to do what I do, professionally, and how I do what I do professionally and personally. I feel strongly about the right to education and healthcare, but we cannot effect change in the human condition unless we are understood. Understanding works in both ways, you have to understand those to whom you are imparting knowledge, and you have to be understood by those who are the beneficiaries of the knowledge you are providing. In teaching and compliance there is nothing more exhilarating then seeing someone clearly comprehend something and nothing so profoundly disheartening as to misunderstand someone, their circumstance, or to have been mis-understood.
NCURA can help our membership deepen their understanding of the unconscious bias concept of Microaggressions and "the lasting impact of just a few words" as I believe that microaggression significantly impacts our ability to belong, understand and be understood. Kevin Nadal describes microaggression as "common, subtle, intentional and of unintentional interaction or behaviors that convey a sort of bias …". Microaggression examples that are just a few words: "Where are you from?" or "You speak our language well!" There may be good intentions behind these few words, but communication like this always sends the same message: We're the norm and you're different." Nadal goes on to say "Unfortunately, discriminatory attitudes and structures are not fringe phenomena but instead widespread. They have a long tradition and are reflected in belief systems, prejudices, notions of normality, and our language. We are all human beings who are prone to making mistakes, and who are capable of committing microaggressions. And it doesn't necessarily mean that you are a bad person if you commit a microaggression. Instead, you need to concentrate on becoming more aware of your biases and how you are affecting others." Initiatives that help the membership become more aware of personal biases and how each individual interaction can affect others impacts our organization's sense of belonging and the ability to understand and be understood.